Relocating can be a chaotic time. It's easy for small details to get lost in the shuffle or forgotten. Don't let your Medicare coverage be one of those details.
Depending on the type of Medicare coverage you've chosen and whether you're moving across town or far away, the steps you need to take could be as simple as notifying the Social Security Administration of your change of address. However, they could be as complicated as invoking a special enrollment period, choosing a new health plan, finding a new doctor, and transferring your medical records.
The Type of Medicare You Have Dictates What You Need to Do
As a general rule, plans that require you to use a specific network of service providers and plans that differ from area to area will need to be changed if you're moving out of the plan's service area. Plans that don't require you to use in-network providers might not need to be changed. However, the rules about whether or not you're allowed to change plans, and if so, the timeframe in which you're allowed to change the plan, are complicated.
Plans That Are the Same Throughout the United States
Medicare Part A
Medicare Part B
Standard Medigap plans (note that Medigap plans are different in Massachusetts, Minnesota, and Wisconsin)
Plans That Vary from Area to Area or That May Require You to Use an In-Network Provider
Medicare Part D prescription drug plans
Medicare Part C, otherwise known as Medicare Advantage
Medicare Cost Plans (only available in a handful of states; relatively few people have coverage under these plans)
Medicare SELECT, a special type of Medigap plan that uses a provider network. As of 2018, there were about 582,000 Medicare SELECT enrollees, versus a total of almost 14 million Medigap enrollees nationwide.
If you have Medicare Part A and Medicare Part B, you need to notify the Social Security Administration of your change of address, but you won't need to change plans just because you're relocating.
If you have a Medicare Part D plan, a Medicare Advantage plan, a Medicare Cost Plan, or a Medigap Medicare SELECT plan, you need to determine if your new address is still within that plan's service area. If it isn't, you may need to choose a new plan that serves residents of your new area.
Medicare Advantage & Medicare Part D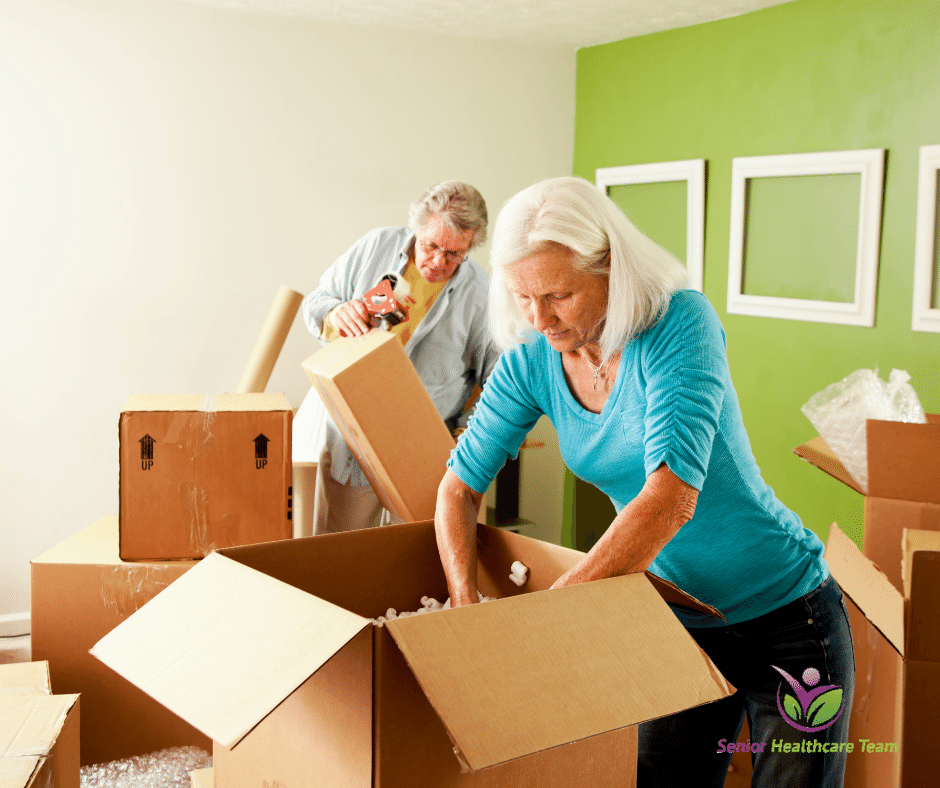 If you move out of your Medicare Advantage plan's service area or Medicare Part D plan's service area, you can switch to a Medicare Advantage or Medicare Part D plan that provides coverage in your new area.3 You can make this switch the month you move and up to two months after you move if you notify your current plan before you move. If you wait until after you move to tell your current plan about your change of address, you can switch plans that month and during the next two full months.
If you relocate out of your Medicare Advantage plan's service area and fail to enroll in a new Medicare Advantage plan in your new area, you'll automatically be switched back to Original Medicare. This will happen when your old Medicare Advantage plan is forced to disenroll you because you don't live within its service area anymore.
Moving Into or Out of a Nursing Home or Other Institutional Facility
If you're moving into or out of a qualified institutional facility (like a nursing home, skilled nursing facility, psychiatric hospital, etc.) or living long-term in one, you'll find that you have quite a bit of flexibility in terms of making changes to your Medicare coverage.
When you move into or out of the facility, you can switch from one Medicare Advantage or Medicare Part D plan to another. You can switch from Medicare Advantage to Original Medicare Parts A and B, or switch from Original Medicare to Medicare Advantage. You can drop your Medicare Part D plan altogether.4 And you can make these changes as often as monthly during the time you live in the nursing home—you essentially have an ongoing open enrollment period during the time you're in the nursing home.
If you move out of an institutional facility, you can make all of those coverage changes at any point during the two months after the month you move out of the nursing home.
Medigap and Relocating
You need to notify the insurance company that provides your Medigap supplemental health plan that you're moving, and the move might result in a change in your monthly premium amount. But you should not need to change Medigap insurance companies. Medigap plans are standardized across the country (with the exception of three states, described below); for example, Medigap Plan F offers the same coverage in one state as it does in another state. So you should be able to keep the same Medigap plan and insurance company despite your change of address.
[Massachusetts, Minnesota, and Wisconsin have waivers from the federal government allowing them to standardize Medigap plans differently, so plan designs are different in those three states. But if you buy a plan in one of those states and then move to a different state, you should be able to keep your Medigap plan, despite the unique plan design.2]
It's important to understand that moving to a new area or state is not one of the limited circumstances that trigger a special enrollment period for Medigap plans. Unlike other private Medicare plans, there's no annual open enrollment period for Medigap, and the situations in which people have a guaranteed-issue right to switch to a different Medigap plan are fairly few and far between.5
There's sometimes a misperception that moving to a new state will give a Medicare beneficiary an opportunity to pick a new Medigap plan in that state (perhaps a different plan design than the one they initially picked when they enrolled in Medicare), but that's not the case. Basically, as long as you're allowed to keep your Medigap plan, you're not going to have a guaranteed issue right to buy a different one instead. You can always choose to apply for a new Medigap plan if you want, but if you're not in your initial enrollment window or a situation that grants you guaranteed-issue rights, you'll likely have to go through medical underwriting (i.e., the insurer can reject the application or charge higher premiums based on your medical history). There are some states, however, that have implemented limited guaranteed-issue windows for Medigap plans. If you move to one of those states, you may have an opportunity to switch to a different Medigap plan on an annual basis.6
But if your Medigap policy is a Medicare SELECT plan, one that requires you to use a specific network of healthcare providers, the rules are a little bit different. If you move out of the Medicare SELECT plan's service area, you have the right to switch to another Medigap policy if you want to. You'll be able to select any Medigap plan A, B, D, G, K, or L that's available in your new area (and if you first became eligible for Medicare prior to 2020, you'll also have the option to enroll in a Medigap Plan C or F; these plans are not available for purchase by people who became eligible for Medicare after the end of 2019).5 The time you're allowed to switch plans is limited, though, so check with the insurance company that provides your Medicare SELECT policy to make sure you understand the details and follow all of the rules.
Moving When You Have Both Medicare and Medicaid
Of the 62 million Americans who have Medicare coverage, about 12 million also have varying degrees of Medicaid benefits. Medicare is a federally-run program, while Medicaid is jointly run by the federal and state governments. So Medicaid eligibility and benefits vary from one state to another.
If you're enrolled in both Medicare and Medicaid and you're going to be moving to a different state, you'll need to contact the Medicaid office in both your current state and the new state. Once you move out of state, you'll no longer be eligible to be covered under your old state's Medicaid program, but you'll want to make sure you understand how the new state's Medicaid program works.
One other point to note: You may have heard about Medicaid expansion under the ACA, and how some states have thus-far rejected expansion. But Medicaid expansion (which bases eligibility only on income, without an asset test) only applies to people up to age 64. For people who are 65 or older—as is the case for the majority of Medicare beneficiaries7—Medicaid expansion rules do not apply. There are still income and asset requirements, nationwide, for Medicaid eligibility if you're 65 or older.
Other Considerations
You need to notify the Social Security Administration of your new address no matter what type of Medicare you have.
If you won't be able to keep your doctor, you need to choose a new doctor in your new area. Your new primary care doctor may be able to recommend new specialists if needed.
If you change doctors, arrange to have your medical records transferred to the new doctor. Better yet, get copies from your current doctor, and hand deliver them to your new doctor.
Making changes to your Medicare Plan or Medicare Supplement Plan doesn't have to be complicated if you know what steps to take. Read this to learn more: Medicare: The Difference Between Initial Enrollment Period and Special Enrollment Periods
By David Lasman – "Ask Medicare Dave" | President – Senior Healthcare Team
wwww.SeniorHealthcareTeam.com | 866-333-7340 Selecting the right healthcare plan through Medicare can be overwhelming and downright stressful. Senior Healthcare Team is a nationwide resource that provides guidance and support about Medicare to seniors at no cost to them and helps them to choose the most suitable insurance plan tailored to their specific needs and budget. Our goal is to educate and empower our clients to make the best decisions regarding their healthcare and clear up the confusion of Medicare. At Senior Healthcare Team, we aren't partial to any one insurance company. Our loyalty is to our clients and our mission is to provide them with the best healthcare options at the very lowest cost.